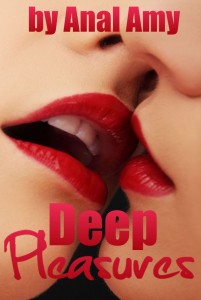 Last month, you naughty guys and horny gals selected this steamy topic in last month's reader's choice contest. I'm excited to say that the story turned out even hotter than I ever imagined. It brought my fantasies to a whole new level, so I hope you like it.
Deep Pleasures is available for download at Amazon and in other formats at Smashwords. It's $2.99, a little bit more expensive than my other stories but I put my heart and soul into it. I think it's my highest quality writing yet, along with the hottest story that I've ever written.
If you do pick up a copy, I'd love it if you left a review of it on Amazon. I would love, love, love that!
Book Description:
Redhead sex blogger, Anal Amy is back with another adventure, this time it's a steamy girl on girl fantasy with sultry brunette named Tori. Together, the two of them tease the men at a crowded dance club, before making their way back to a hotel room for some added privacy. Amy craves cock, but she's willing to learn the finer parts lesbian seduction. It's satisfying, but Amy wants more and her friend knows it. That's why she packed a strap on dildo for this getaway.
Excerpt from Deep Pleasures:
"What?" I pulled my lips away from her pussy. "What did I do wrong?"

"Nothing. It's just that there's something else that I want to try."

"Like what?" I had no clue what she had in mind. I watched as she climbed off the bed and dug into her suitcase.

She pulled out a red, rubber dildo and I grinned. Then came the leather straps and my grin grew even bigger. "You told me that you've used a strap on before," I said, "but I didn't think we would use it together."

"Of course I had to pack it, just on the off chance that something like this happened. I want you to use it on me. I want you to fuck my ass, show me how good anal can feel."

I felt the wetness between my legs grow, my heart started beating hard again. "I would love to."