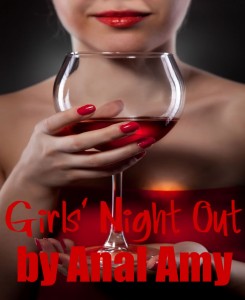 I woke up to good news today, my latest eStory, Girls Night Out: A Few Drinks, A Few Cocks And A Gangbang is live on Amazon and now Smashwords for just 99 cents. The story is based on adventure I had with a couple of my girl friends recently. One of my friends, recently got out of a long term engagement and is looking to live out some of her naughtiest, wildest fantasies. I hope you enjoy this one, I know that I did!
Make sure you read the very lengthly excerpt posted yesterday to get an idea of what the story is about. The excerpt is hot, but it just gets hotter that night.
Here's the description from Amazon:
Girls night out will never be the same for these three twenty-something women. It started with a few glasses of wine at their favorite restaurant, but it turned into a night that none of them will ever forget.

Before the sun rose the next morning, they were swimming around topless in a pool, getting to know each other intimately and two of them, let themselves be used by a group of four very horny men.

This story based on real life events, includes lesbian, oral, group sex, anal, and cum fetish themes.
As always, huge thanks to everyone that picks up a copy. I appreciate your support in helping my dream of becoming a full time writer come true. Huge thanks to anyone that leads a review. Those really help and I appreciate them.