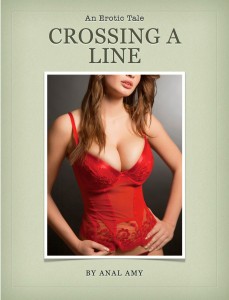 I'm excited, my new short story: Crossing A Line An Erotic Tale Of A First Time Call Girl And Her Two Clients is now available on Amazon and Smashwords for 99 cents. The real reason that I'm excited, is that I really liked this story. All of my stories turn me on, or I probably wouldn't be writing them. But this one left my panties soaking wet on multiple occasions as I was working on it.
The story allows me to explore a side of me, that to this point I never thought I would cross. I've had men offer to pay me to have sex with them, but it wasn't until recently that I seriously thought about doing it.
Description From Amazon:
Amy loves sex. She's admitted that she's a slut. She likes doing the things that other girls won't do. She loves sucking cock, she didn't earn the name Anal Amy by accident, and she craves cum on her. However, there are some things that she won't do. At least she thought there was.

Amy took a temporary job bartending at a gentlemen's club for a couple of weeks. During that time, a number of men hit on her. She was even propositioned a few times by various men. However, she always said no until one exotic, older woman had an offer for her.

Against her better judgment, Amy accepted that offer and found herself back at the hotel with this enticing woman and her businessman lover. Amy thought that she was going there for a no strings attached threesome. She didn't know that they actually wanted to pay her to have sex with them.

Story contains: sex, blowjobs, threesome (FMF), anal and facial acts.
Thank you to everyone that helps support me in continuing my dream of becoming a full time writer. Ninety-nine cents doesn't sound like a lot, but it is a step in the right direction.
And I hope you guys and gals enjoy this story as much as I did writing it. I think the topic of being a call girl is something I'm going to explore more.