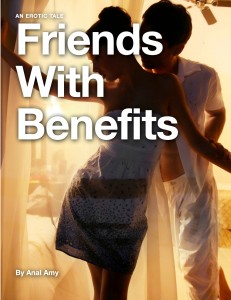 My newest erotic story – Friends With Benefits: Two Erotic Tales are now live on Amazon and Smashwords for your enjoyment! These two stories feature flings that I had with guys who turned out to be more than friends. In the first, I had a crush on him. In the second, he was more interested in me than I was in him. I'm sure that I'm not the only one who has been in this situation so maybe you can relate.
As always, I would love to hear your feedback about the stories!
Here is the description from Amazon:
Since the beginning of time, or at least since Harry met Sally, men and women have tried to be just friends. However, somewhere along the line of that friendship lust takes over. Some times it ruins the friendship, sometimes it leads to happy marriages, or sometimes it turns into a night or two of really hot, sweaty sex when they're all alone.
In our first story, Amy, a twenty-something redhead is hoping that something more will happen with the long time friend that is in town for a conference. One drunken night, in high school they hooked up and had a night filled with really bad, sloppy sex. Now, she's hoping to find out there's still a connection between them and whether or not he can make up for that night.
In the second story, Amy tells the story of her encounter with a male friend that wanted to be more than just friends. She seems him as a brother, but he wants something more and wants to prove to her that he can satisfy her needs.
These naughty adventures include blowjobs, lots of sex, outdoor sex and of course anal.
Make sure to check out the steamy excerpts from the stories here and here.