I have some awesome news! My first story has been published on Amazon! It's a short story about one of the hottest nights I've ever experienced.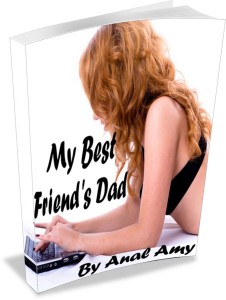 It's called My Best Friend's Dad, but if you're a long time reader you'll probably recognized that it's based on the Jill's Dad post. I took the time to rewrite, give more of the back story, add more detail to the sex scenes and connect some of the dots.
My Best Friend's Dad is 99 cents and available in their Kindle store. Just so you know (and I thought this too), you don't need a Kindle to download this story. They have software so that you can read it on your computer or smart phone.  If anyone has any interest in me publishing it on the Nook or any format (standard ebook, etc), I was looking into that and if there's interest I'll get on it.
If you do buy a copy, please review it on Amazon and let me know what you think about it on the comments here. I would love, love, love your feedback.
So in case I wasn't clear enough, you can buy my first short erotic story on Amazon called My Best Friend's Dad.
And for those of you who wanted a collection of short stories, whenever I have free time (which isn't often enough), I'm working on a longer work which includes some of the hottest posts from my old blog rewritten, steamy nights that never got written about and who knows what else.