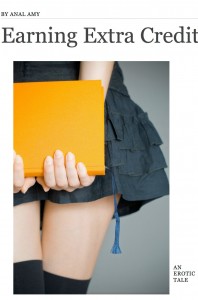 Earning Extra Credit: What One Horny Student Will Do For An A+, my first erotic e-story that doesn't have me as a character and isn't based on my own adventures is now live on Amazon and Smashwords for 99 cents. And although I'm not the main character, I think you'll like Krystal. She's a fellow bartender like me, busty like me and has a bit of a wild sex life like me. This is based on true events, a story she told me about the sex she had with a teacher (she was 18 don't worry).
Amazon description:
I'll be honest. Krystal wasn't an angel. With a cute smile and above average bra size, the boys couldn't stay away from this eighteen year old. She had done more than her fair share of sexual exploration with those boys – blowjobs after school having sex in the backseats of cars at the makeout spot and a few other things.
Krystal was used to getting what she wanted, however there was one teacher who wasn't giving her the grade that she needed. He refused to let her re-take a test. He said he didn't give out extra credit, at least not any of the kind the school district would allow.
Find out how Krystal earns her A+.
I hope you like it. I hope it turns you on the way it turned me on to hear her story. If you do like the direction it goes, I do know a few other things about her that could make for interesting tales.