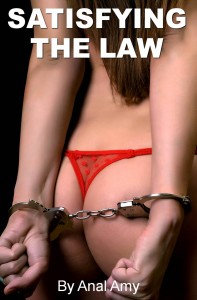 The rumors are true, Amazon accepted my latest mini-eBook. This is one is titled Satisfying The Law.
It's a collection of two fantasies that I've had running through my head. One has appeared here earlier this year, the other has never been published before this. Both fantasies I couldn't stop thinking about. I spent nights between my sheets unable to sleep because the ideas, images and thoughts kept running through my head.
When pulled over, most normal people probably spend the time praying that they won't get a ticket or worry about how they'll pay that ticket. Instead, my dirty mind imagines how I could convince that officer not to give me that ticket, what I would be willing to do to get out of that ticket, how far I would be willing to go, how much of a slut I would be…these two fantasies explore those thoughts.
In the first fantasy, I'm headed to see my boyfriend. I'm wearing only lingerie underneath my coat and in so much of a rush to see him that I don't see the cop until I've already sped past him. As I pull my car over, I imagine just how I could convince him not to give me a ticket.
In the second fantasy, I'm driving half way across the country to my new home in Florida. I'm on a back road in the middle of nowhere when a good ol' boy police officer pulls me over. There's no one around for miles and I'm at his mercy, forced to do whatever he wants until he feels that I've paid off my ticket.
Pick it up at Amazon for only $.99!
Smashwords edition will be available later this week and will be the same price.