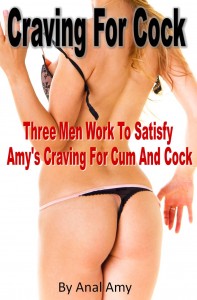 I'm pretty excited about this story and I think you will be too. Craving For Cock tells the story of my wild Saturday night before Halloween. The night started out pretty calm, but by the end of the night I was alone with three very horny guys and I was just as or maybe even hornier them.
And I think the story is more than just me giving multiple blowjobs and getting fucked by multiple guys. I think it brought out the real slut in me, the nympho that had been silent for the past couple of years. The girl that isn't afraid to go after whoever she wants, whether it's one guy, a group or another girl. The kind of slut that isn't afraid to do whatever she wants and not worry what the outside world might think of her.
I think this night led to me filling comfortable enough to tell Scott about the other men that fuck me and I think it will led to other more wild, more naughty adventures.
Anyways, pick up a copy today at Amazon. It's only 99 cents. You don't need a Kindle to read it. Later this week, I'll have it on Smashwords, which will make it available in other formats.
After read it, I would love to know what you think of the story.